Garage Door Repair Services
Is your garage door or garage door opener not working properly? We'll send one of our trained professionals over and have your garaged door repaired and operational in no time! We do all our work while maintaining honesty, integrity, customer satisfaction, and safety, from the largest to the smallest garage door maintenance jobs.
Emergency Garage Door Repair Service
Broken Springs – It takes a ton of torque to get your garage door off the ground. Springs counteract gravity to make it easier for your opener, or yourself, to do the deed. With that much force, it's easy to see why you shouldn't be changing them by yourself. We can easily replace both torsion and extension springs when they get worn out due to excessive use or exposure to fluctuating temperatures.
Broken Drums – One of the lesser-known parts of your garage door set up, drums are located in the upper corners of your door frame. These small, metal wheels are responsible for rolling the cables that lift and lower your garage door. Drums usually only require a simple replacement due to normal wear and tear.
Opener Repair – We can fix any opener — whether it was purchased from us or not. Our technicians can handle everything from minor adjustments and lubrication to full-scale repairs. 
Sensor Repair and Alignment – Does your garage door have a mind of its own? If that's the case, you might be having trouble with your sensors. Our technicians will make sure they aren't being too sensitive and put them back on the straight and narrow. That way, your garage door will close when you want it to rather than when it feels like it.
Roller Repair and Replacement – Rollers are the key to making everything on your garage door run smoothly. These tiny wheels allow your garage door to glide with as little noise as possible. Our technicians can do a simple swap-out of one wheel or help you upgrade to a quieter variety.
Track Repair – If you see a hitch in the same place every time you hit your opener then it might be time to repair your tracks. Bent tracks make it much more difficult for your garage door to move smoothly and place unwanted pressure on other parts of your setup. In most cases, a simple realignment is all you need.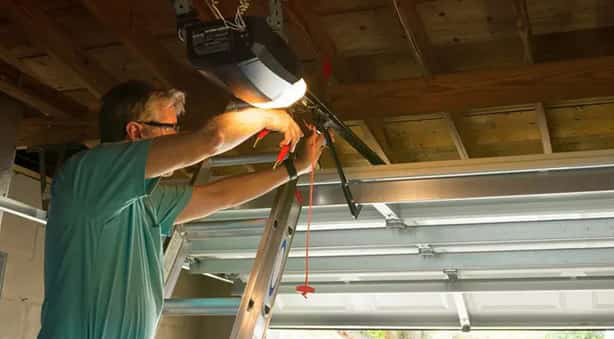 When the spring, belt, or chain on your garage door or garage door opener breaks, we can help.

We have the parts and the experience to replace a spring and repair your garage door quickly, removing further stress or worry from your life.
Schedule your free quotation now
Our team is here to assist you to find your perfect garage doors for your new home or business project!